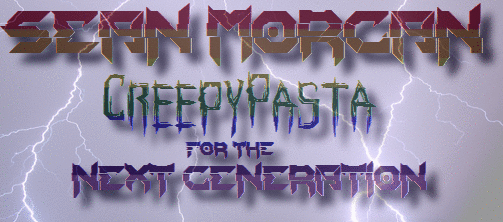 Welcome to the Sean Morgan - CreepyPasta for the Next Generation Wikia
Sean Morgan's CreepyPasta for the Next Generation is a place where people can submit, discuss, and read CreepyPasta's of all kinds. The Search bar at the top can be used to search for a pasta by name, and you can always type Category:Pasta, or click that link, to search through the full list of Pasta's on this Wiki. Want to post your Pasta's? Click this To The Pasta Board! link, or navigate to it from the Community Tab. Enjoy.
What's New This Week?
This week marks the first official week of existence for Sean Morgan. New visitors are asked to sign up, and begin posting things immediately following the finish of the Story Section. Thank you for visiting, and have a nice day.
Latest activity
Photos and videos are a great way to add visuals to your wiki. Find videos about your topic by exploring Wikia's Video Library.
Community content is available under
CC-BY-SA
unless otherwise noted.